Come On, Barbie, Let's Go Party… Four Lessons Barbie Can Teach Us About Reputation Management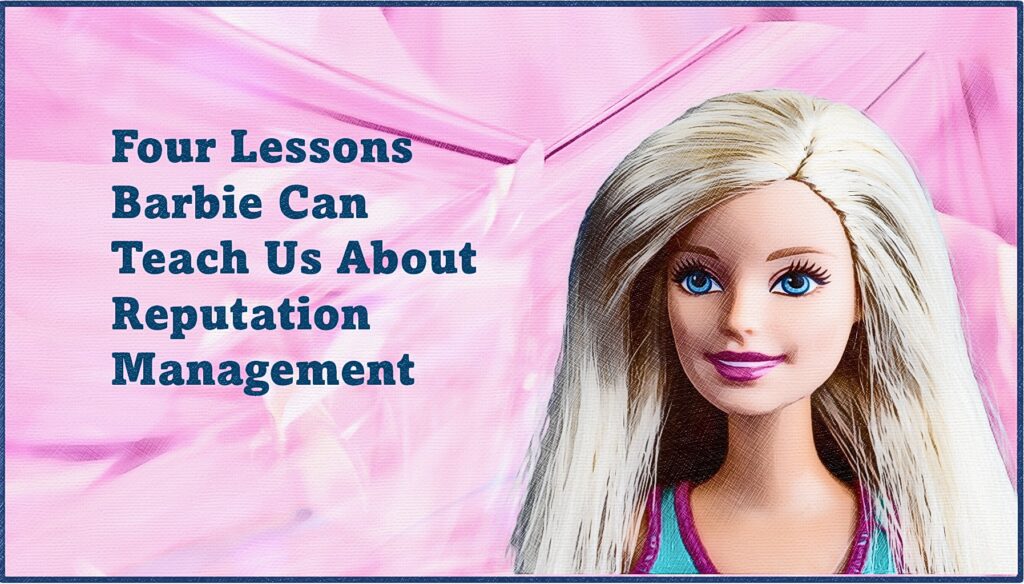 Barbie is having a major cultural moment. As of July 31, Barbie (the movie) was on pace to achieve $800 million in global ticket sales in its first two weeks. But for the past four decades, Barbie has at times held the dubious honor of being both the world's most beloved and most despised doll.
Despite her global popularity, the Barbie doll has been routinely criticized for playing into sexist stereotypes and promoting an unhealthy and unattainable body image for women and girls. Psychologists even labeled the negative impact the doll had on girls' self-esteem and career prospects as the "Barbie Effect."
Mattel also has stumbled repeatedly in its attempts to broaden Barbie's appeal. 1997 was a particularly rough year, when Mattel was taken to task for launching both a Black "Oreo Fun" Barbie (who was quickly pulled from stores) and a non-ADA compliant "Share-a-Smile Becky," (a Barbie whose wheelchair was not able to access the Dreamhouse and was discontinued).
Notwithstanding these gaffes, Barbie has emerged more popular than ever.  As Mattel noted on its most recent earnings call, Barbie was the #1 Doll property globally.
Barbie – and the folks at Mattel – have apparently learned some important lessons about how to handle negative publicity, how to build and evolve an inclusive brand that can stay relevant over the long term, and, as we are seeing with the wildly successful movie, how to change the narrative – when the time is right.
Here are a few lessons about reputation management we can all learn from Barbie.
Understand your customers and the market. The creators of Barbie understood that the market for Barbie (the movie) was broader than the market for Barbie (the doll). Whether you were an avid collector of limited edition Barbies or wrote college essays about the dolls' contributions to eating disorders, everyone has an idiosyncratic reason to see the film. Its existential framing made Barbie relatable to a wide range of viewers with different perspectives, experiences and tastes while staying true to the brand's aggressively pink "You Can Do Anything" ethos.
Contrast this adept "big tent" approach with Bud Light's clumsy efforts to reach a younger, urban customer base by sponsoring a promotion with transgender influencer Dylan Mulvaney. Alienating their core customers with what amounted to a publicity stunt resulted in a stunning drop in sales and gave ABInBev a starring role in the 2023 culture wars.
Own the criticism. Mattel and the movie's director Greta Gerwig acknowledge that a sizeable part of the population views Barbie dolls as anti-feminist and uncool. The scene where Barbie confronts a Gen Z teen in the real world portrays just that.
While it can be difficult to acknowledge that a criticism is valid, companies and brands who do so – even in a light-hearted way – often get points for honesty and authenticity.  KFC's response when its stores ran out of chicken is a good example of a brand that took legitimate criticism head on and scored points with its customers for doing so.
If you apologize, do it whole-heartedly. In the right circumstances, a sincere apology can earn points for transparency and accountability. In 2021, when Mattel released a collection of Barbies to commemorate the Olympic Games in Tokyo, they were criticized for failing to accurately represent Asians. Mattel responded with a sincere apology that helped it weather the storm, acknowledging that its attempt at inclusivity missed the mark and offering a promise to do better.
Compare that with Bud Light's non-apology after the Dylan Mulvaney kerfuffle, which actually made the situation worse by inflaming both their loyal customers and the LBGTQ+ community.
Play the long game. Regaining public confidence and goodwill after a misstep can take time and often requires effort to change, evolve and adapt in response to past mistakes. It can be frustrating when public opinion doesn't change overnight, but companies who show they "get it" by listening and responding to constructive criticism rather than offering performative pablum are most likely to reap the rewards of enhanced brand perception. Mattel, for example, now includes a wheelchair ramp in Barbie's Dreamhouse and its recently released Barbie with Down Syndrome was created in partnership with the NDSS. Staying true to a brand amidst changing cultural norms is no easy feat, but the response to Barbie demonstrates the staying power of iconic brands.
Transparency, accountability, and adaptability are the building blocks of reputation management. Barbie shows us that the brands that stay relevant are the ones who understand their market, listen to constructive feedback, own their mistakes, and play the long the game.
***
Reevemark has been ranked among the top advisors in the Crisis PR & Communications Guide each year since the Guide was created in 2021. Read more about Reevemark's Crisis & Reputation Management practice.
Get in Touch
For more information about Reevemark or to inquire about a potential engagement, please send us an email.
Email Us