The Deal: Reevemark Tops Bankruptcy League Tables for Q2 2023
Q2 Bankruptcy League Tables: Put to Bed
The Deal has revealed its global league tables for financial, legal and other services providers in bankruptcy for the first half of 2023.
By Michael Brown
14 July 2023
The Deal, a leading news and information platform for dealmakers, has revealed its global league tables for financial, legal and other deal services providers in bankruptcy for the second quarter ended June 30.
In the 12 months ended June 30, The Deal tracked 215 filings of at least $25 million in liabilities that as a group represent roughly $206 billion in total liabilities. That's up from the first quarter's trailing 12-month tally of 186 U.S. bankruptcy filings with roughly $191 billion in total liabilities as well as the fourth quarter's trailing 12-month total of 151 filings with total liabilities of $168.3 billion.
The top advisers by total liabilities were Latham & Watkins LLP and Young Conaway Stargatt & Taylor LLP among law firms; financial advisory firms PJT Partners Inc. and Moelis & Co. LLC; and restructuring advisers FTI Consulting Inc. and Alvarez & Marsal LLC.
Reevemark LLC and Joele Frank, Wilkinson Brimmer Katcher led PR firms. Kroll Restructuring Administration LLC was the top claims and noticing agent.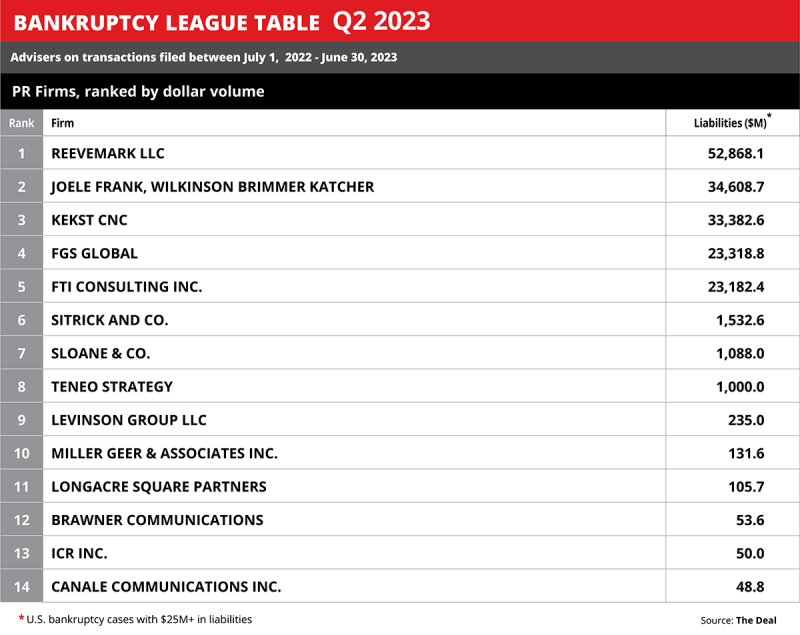 Perhaps the quarter's most notable bankruptcy news was Bed Bath & Beyond Inc.'s April Chapter 11 filing, which listed $5.2 billion in liabilities. The filing ended a long period of turmoil for the company.
The fall of First Republic Bank in May was the biggest bankruptcy of the second quarter by liabilities. Other notable filings include data center services company Cyxtera Technologies Inc., which listed $2.6 billion in liabilities, and Vice Media parent Vice Group Holding Inc. at $1.4 billion.
***
Reevemark specializes in partnering with our clients to navigate these challenging situations, starting from the time a company begins exploring measures to improve its capital structure. Recent experience includes representation of Diamond Sports Group on its Chapter 11 process to strengthen the Company's balance sheet.
More information about Reevemark's Bankruptcies & Restructurings practice is available here.
Get in Touch
For more information about Reevemark or to inquire about a potential engagement, please send us an email.
Email Us