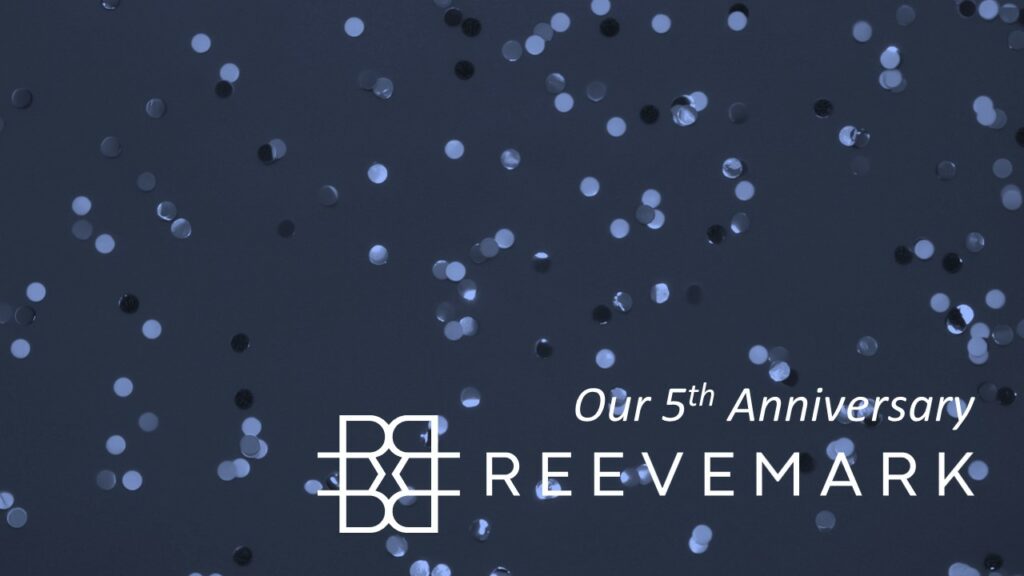 We launched Reevemark because we saw a need in the market for a specialized communications firm offering unparalleled access to engaged, experienced senior advisors who help clients navigate the complex issues affecting reputation and value. We also wanted to build a firm where we could focus on doing what we love to do and developing a team of professionals who also thrive on rolling up their sleeves and delivering favorable outcomes for clients. A lot has changed in our industry over the past five years, but the need for trusted advisors who can provide sound, candid strategic advice has only increased, and we could not be more excited about where Reevemark is today and where we are headed.
Over the past five years, we helped our clients respond to and communicate through a global pandemic, the rise of employee activism, Reddit-fueled stock market rallies, and unprecedented pressure to speak out on issues of social and political change. These challenges called for us and our clients to think differently about what and how to communicate with stakeholders in real time. We are incredibly grateful to our clients, who have trusted us to guide them through this new terrain.
We are as proud of the work we do behind the scenes as we are of the high-profile public matters we have worked on such as Dominion Voting Systems in its litigation against Fox, Trian Partners in its campaign to increase shareholder value at Disney, Diamond Sports Group/Bally Sports in its restructuring, and Simon Property in its acquisition of Taubman Realty Group, one of the largest transactions directly impacted by COVID. Whether we seek to keep our clients out of the headlines or to shine a light on the issues important to them, we develop and implement a bespoke strategy to help our clients achieve their desired objectives.
Looking ahead, the communications landscape will continue to evolve, but one thing that will not change is the need for experienced advisors who can help clients make the most difficult judgment calls when their reputation is on the line. We pride ourselves on being there for our clients when it matters most — immersing ourselves in our clients' unique opportunities, challenges, and stakeholder dynamics, and working relentlessly to ensure clients are effectively communicating with stakeholders during good times and bad. We also appreciate that our work has been recognized by influential third parties, including Chambers and Partners, which ranked Reevemark among the top firms in both Litigation Support and Crisis and Risk Management this year.
Finally, we want to thank the amazing group of legal, proxy, and financial advisors with whom we partner to serve clients when the stakes are at their highest. We greatly appreciate your support and look forward to continuing to work with you in the coming years.
Get in Touch
For more information about Reevemark or to inquire about a potential engagement, please send us an email.
Email Us