Wait a Minute…Let Me Get My Crystal Ball: Communicating in Unprecedented Times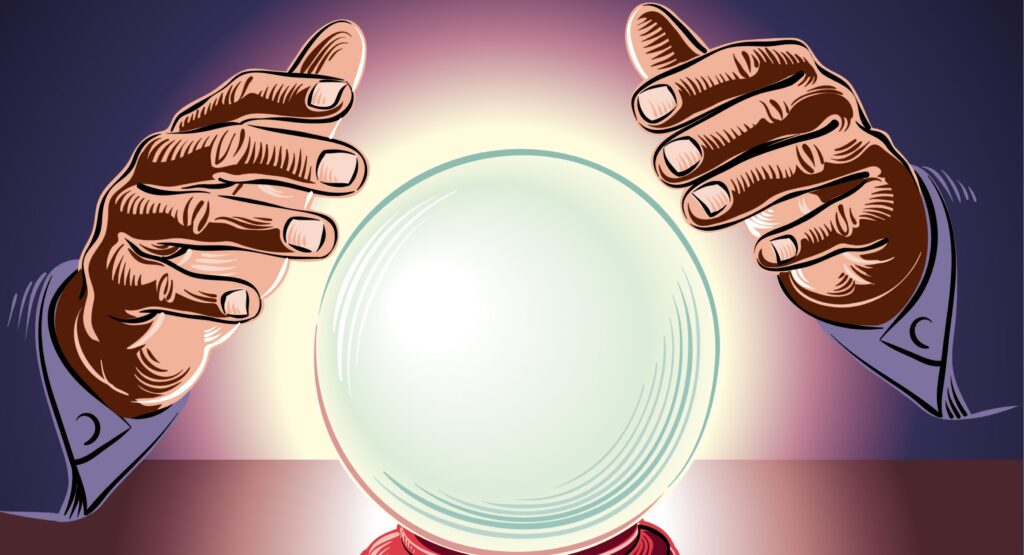 "Foresight is not about predicting the future, it's about minimizing surprise."- Karl Schroeder
Two years ago today the stock market hit a bottom. In one month's time, the S&P 500 lost a third of its value, triggered by a pandemic for which the world was not prepared.
At the beginning of the pandemic, we reminded clients that there is no standard playbook for dealing with a once-in-a-century crisis like COVID-19 and that every organization will have different challenges, constituencies and objectives.
Businesses faced a variety of new and evolving issues over the following 24 months, including the viral spread of misinformation through social media channels; ever-changing return to office and vaccination policies; customers and employees who are increasingly divided along political lines; and more recently, the Great Resignation, the impact of which is still being measured.
But the more things change, the more they stay the same. Now, following a record bull run that doubled the stock market's value, we are again facing an unprecedented series of events that few would have predicted.
Inflation has risen to its highest levels in over 40 years, supply chain bottlenecks continue to hamper global commerce, and Russia's invasion of Ukraine has created one of the most significant disruptions to European peace since World War II, with consequences being felt across the world.
These recent developments continue to test even the most seasoned communications and investor relations professionals. But the good news is that you don't need to have a prognosticator on your team to communicate effectively. The lessons learned during the pandemic can be used to inform communications strategies and meet the current challenges head-on.
Know Where Your Stakeholders Stand.
Having actionable insights about your stakeholders' perspectives can help a team make decisions more quickly amidst uncertainty. Carefully monitor customer sentiment; check in frequently with investors so you know what issues are top of mind; and solicit feedback from employees on a regular basis. Taking these actions in advance will help you predict how these groups are likely to react to company decisions.
Stay Informed.
Just as we have all been on high alert for new variants and changing public safety guidance, keep a close eye on how changing conditions will affect your business's near-term performance and longer-term outlook. Designate subject matter experts on your team to track news on these topics and monitor how peer companies are responding. Be prepared to field concerns from key stakeholders with customized messaging, particularly if you are in an industry that is vulnerable to current challenges.
See Around Corners.
Risk management is a critical exercise in uncertain times. Identify the key areas of reputational and operational risk to your business and prepare contingency plans for the most likely scenarios. More often than not, the process of contingency planning turns out to be just as – if not more – helpful than the actual plan because teams are able to identify gaps and vulnerabilities that can be addressed in advance.
Be Realistic.
While focusing on worst case scenarios has the potential to spook investors, an overly optimistic outlook can be equally detrimental to management's credibility. Clearly distinguish between what you can control and what is beyond your control, and provide investors with a realistic forecast supported by the best available data.
Allow Cooler Heads to Prevail.
As with any new or unique situation, communicating too soon and too aggressively has the potential to cause more issues down the road. Taking the time necessary to have a complete view of the facts and communicate in a level-headed manner is key to maintaining credibility and demonstrating you have a handle on the situation.
***
Though we may be moving from the pandemic to endemic phase, a new set of communications challenges is looming on the horizon. Battle-tested companies have had an opportunity to refine their communications strategies during the pandemic, and they can now apply the lessons they've learned to this latest set of challenges.
Get in Touch
For more information about Reevemark or to inquire about a potential engagement, please send us an email.
Email Us